Derman Equine & Canine Chiropractic
Ray E. Derman, D.C., C.V.C.P.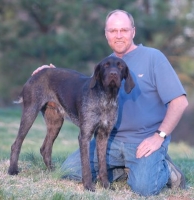 Dr. Derman is a National Board Certified Chiropractor who works in close cooperation with your Veterinarian. He graduated from New York Chiropractic College in 1997 and has been in full-time practice since that time. However, in the last 4 years, he has devoted the majority of his practice to the treatment of horses and dogs. Dr. Derman is certified in Veterinary Orthopedic Manipulation (www.vomtech.com), he has also devoted numerous amounts of time and energy in an effort to make himself one of the leading animal chiropractors in the region. Dr. Derman has done one-on-one training with the notable Dr. Eric Hoppe (www.horsefixer.com), attended seminars and trained with the well-respected Dr. Janek Vluggen of Germany, and also consults regularly with veterinarians throughout the country. In his continuing effort to expand his knowledge, Dr. Derman is currently enrolled in the Veterinary Spinal Manipulative Therapy program at The Healing Oasis Institute in Wisconsin (www.thehealingoasis.com). This knowledge, coupled with the experience of performing thousands of adjustments to horses and dogs, make Dr. Derman one of the most experienced animal chiropractors in the area.
While having no formal equine training, Dr. Derman was fortunate enough to grow up in a rural setting. During this time, he was exposed to numerous types of animals and spent many days trail riding with his grandfather through the woods of Pennsylvania. Dr. Derman has also been an avid amateur dog trainer since the age of 14. He participated in numerous field tests, training events and was an accredited judge for NAVHVA and the VDD-GNA by the age of 21. While no longer as active with these groups, Dr. Derman still trains regularly with his Deutsche Drahthaar, "Otter."
Dr. Derman shares his life with his wife and their two young sons, two cats, a dog and an occasional tadpole. He and his family enjoy an active outdoor life which includes, boating, fishing, hiking, dog training, and attending dog and horse shows.
Dr. Derman credits and wishes to thank Dr. Michael Dym (www.canineworld.com/drdym) for his persistent encouragement to pursue a full-time career in animal chiropractic.
It is Dr. Derman's goal to provide the best possible chiropractic care to his clients' animals so that they may continue to provide them with companionship, pleasure, work and sport.
*Disclaimer
Whenever considering equine or canine chiropractic care, it is important that you first discuss the appropriateness of this type of treatment with your Veterinarian. If your Veterinarian examines your dog or horse and feels that chiropractic care is appropriate, Dr. Derman is available to assist in a healing solution.